Lees hier 5 redenen waarom landbouwers de beste werklaarzen nodig hebben.
Landbouwers hechten veel belang aan de hoeven van hun dieren. Maar hoe goed zorgen ze voor hun eigen voeten? Hier zijn 5 redenen waarom kwalitatieve werklaarzen essentieel zijn voor elke landbouwer.


1. Goede werklaarzen vermijden rugpijn en andere fysieke problemen
Elke kinesist kan je vertellen dat rugpijn vaak veroorzaakt wordt door verkeerd schoeisel. Ze analyseren altijd eerst de schoenen die je draagt en dan pas de rest. Zo is bijvoorbeeld een gebrekkige ondersteuning van de hiel ontegensprekelijk verbonden met lage rugpijn.

Goedkope werklaarzen zijn meestal erg dun en hebben een verwaarloosbaar dunne zool. Het is dus verstandig om te kiezen voor kwalitatieve werklaarzen met een ergonomisch voetbed voor een optimale ondersteuning van de voet. Je voetboog heeft iets van ondersteuning nodig om op te rusten, zodat je voet in de correcte positie blijft. Dit is de reden waarom het dragen van bijvoorbeeld sneakers erg slecht is voor je knieën en rug.


2. Je loopt de hele dag op beton
Als landbouwer besef je niet altijd dat je een groot deel van de dag op beton loopt. En net zoals vee dat de ganse dag op asfalt of op beton staat, kan dit 'kreupelheid' veroorzaken. Afhankelijk van de ernst van het probleem kan dit zelfs fataal zijn voor een landbouwbedrijf.


Kort gezegd: onze voeten zijn niet gemaakt om de ganse dag op beton te lopen. Het zorgt voor een extreme overbelasting van je gewrichten en het zachte weefsel van je voeten. Dit zorgt dan weer voor een heleboel pijnlijke fysieke aandoeningen zoals eksterogen of eeltknobbels.


Gelukkig valt dit, net zoals bij je vee, perfect te voorkomen. (En nee, we gaan geen dierenarts bellen ;-)). Kiezen voor kwalitatieve werklaarzen met een schokabsorberende hiel zijn hier de magische kernwoorden.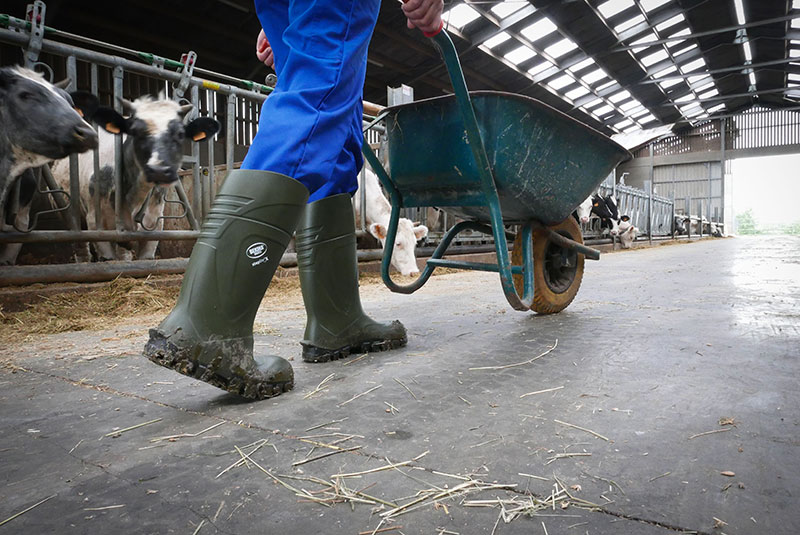 3. Met goede werklaarzen krijg je geen koude voeten
Een andere niet te onderschatten reden om te kiezen voor kwalitatieve werklaarzen zijn koude voeten. Het is alomgeweten dat koude voeten de kans op problemen met de bloedsomloop vergroten. Idealiter dragen landbouwers winter werklaarzen.

Labotesten wijzen uit dat werklaarzen gemaakt met NEOTANE® materiaal veel beter beschermen tegen de koude dan PVC of rubberlaarzen. Bovendien isoleert NEOTANE® niet alleen tegen de koude, maar ook tegen de warmte: dus koel in de zomer, warm in de winter!


4. Goede werklaarzen vermijden dat je uitglijdt
We moeten je vast niet vertellen dat er overal gevaar loert op een landbouwbedrijf. Logisch als je de hele dag werkt met grote dieren en zware machines. Toch is uitglijden één van de meest voorkomende ongevallen op een landbouwbedrijf.


Wanneer je op zoek gaat naar een nieuw paar werklaarzen bekijk je dus best eens de certificaten van de werklaarzen. Zijn de werklaarzen getest op slipvastheid door een onafhankelijk institiuut? Je kan de certificaten van de meest voorkomende onafhankelijke testlabo's herkennen aan de hand van de volgende logo's.



5. Goede werklaarzen besparen je véél geld
Het klinkt waarschijnlijk erg onlogisch als we zeggen dat je geld bespaart door duurdere werklaarzen te kopen. En toch, indien je fysieke problemen krijgt door slechte werklaarzen te dragen of je hebt zelfs een ongeluk, lopen de medische kosten al snel heel hoog op. Je kan een deftig paar werklaarzen kopen voor veel minder geld.


Bovendien gaan kwalitatieve werklaarzen veel langer mee dan goedkope werklaarzen, waardoor je minder vaak een nieuw paar moet kopen en je op lange termijn geld bespaart.


We vatten dit artikel even samen met één zin: laat je niet verleiden door goedkope werklaarzen aan te schaffen om wat te besparen. "It is a recipe for trouble".


Waar kan ik NEOTANE® werklaarzen aanschaffen?
NEOTANE® is het unieke Bekina® Boots materiaal dat zorgt dat onze werklaarzen sterker, warmer én comfortabeler zijn dan andere werklaarzen op de markt. Je kan ze aanschaffen via deze webshop en we leveren ze binnen de drie werkdagen bij je thuis af.
Onze werklaarzen (made in Belgium!) zijn beschikbaar zonder veiligheid (S4), met stalen neus (S4) of met stalen neus - en zool (S5). We hebben zelfs werklaarzen met metaalvrije veiligheidstop en -zool!